Competitively Priced, Custom Accessory Dwelling Units for Homeowners in Sunnyvale, CA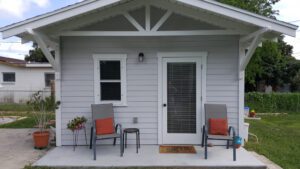 As a licensed and insured full-service builder, Sunrooms N More has been trusted by homeowners in Sunnyvale, California, and beyond to provide everything from custom outdoor living spaces and home additions to full-scale kitchen and bath remodels since 2008. Now, we're putting our full-service construction expertise to work for our customers by providing custom-built accessory dwelling units.
What is an Accessory Dwelling Unit?
An accessory dwelling unit (ADU), is a secondary housing unit built on a single-family residential lot. Essentially it is a small house, typically ranging from 300 to 1200 sq. ft. and fully equipped with a bathroom, kitchen, bedrooms, and living area.
Why Are Homeowners Building ADUs?
Many homeowners are building ADUs as rental properties to offset the high housing costs and taxes in Sunnyvale, CA. Others who may be looking to downsize, see an opportunity to live in the ADU themselves and rent out their main house, generating even more passive income. In addition to rental units, homeowners are using ADUs as in-law units and cottages, as they are a cost-effective way to house extended family while maintaining privacy.
Why Trust Sunrooms N More to Build Your ADU?
One thing is for certain when having an ADU constructed on your property: You want a builder with extensive experience and expertise. Sunrooms N More has these traits in spades. As a full-service builder, we are truly a one-stop shop. Architectural plans, engineering, framing, foundation work, permitting, electrical and plumbing, installations: we'll take care of it all so that you don't have to have to coordinate with multiple contractors. And, every aspect of your ADU construction will be handled by our in-house team of experts, allowing us to carefully control the quality and timeline.
What's more, Sunrooms N More sets ourselves apart from other companies offering prefabricated ADUs by building custom units. We can make it easy by offering set ADU floorplans in a range of sizes and configurations, allowing you to customize the finishes. Or you can create something unique. The best part? We're able to offer custom solutions at prices that are often lower than prefabricated ADUs.
Learn More
Contact Sunrooms N More today for more information about the accessory dwelling units we build for homeowners in Sunnyvale, CA.