Kitchen Remodeling Services Provided in Sunnyvale, San Mateo, San Francisco, Milpitas, CA & Other Communities in the Bay Area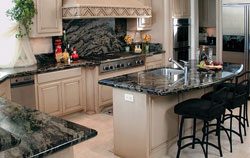 If you're in need of a kitchen remodeling expert for a renovation at your home in San Bruno, Hayward, Fremont, Walnut Creek, or another neighborhood nearby in California, then you don't need to look any further. At Sunrooms N More, we do much more than just install beautiful sunrooms. We're a full-service remodeler with more than a decade of experience in the industry, and we can help you with every step of the renovation process, from your initial design concepts to the final day of construction.
No matter how extensive your kitchen remodeling project is, our team of skilled craftsmen has the ability to renovate any and all components of the room, including:
Cabinetry
Sinks
Flooring
Plumbing fixtures
Countertops
And more
It's beneficial to work with Sunrooms N More for your kitchen remodeling project because our company was built around providing outstanding customer service. Unlike many other companies, we don't juggle multiple jobs at once – while we are working on your home, we will stick with that project until it is complete. Additionally, we'll provide up-front pricing information and offer multiple options so that you can stay within your budget.
Contact Sunrooms N More today for more information about our kitchen remodeling services in San Jose, Pleasanton, Sunnyvale, Livermore, CA, and nearby areas. Our expert team also specializes in many other areas of home improvement – we can assist you with renovating a bathroom, designing a sunroom or pool enclosure, building a home addition, and much more.