Beautiful Retractable Pool Enclosures Installed on Homes in Sunnyvale, CA & Surrounding Areas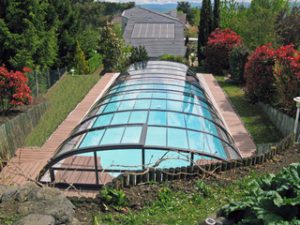 Retractable pool enclosures provide the perfect solution for enjoying your Sunnyvale, California, home's pool all year long. At Sunrooms N More, we are proud to offer a wide selection of these modern structures, which will enable you to use your swimming pool no matter the weather and will still allow a complete view of your yard. We have low, medium, and high sizes available, so you can select the height that best suits the layout of your home. And, we offer these enclosures in a range of styles and colors, giving you the freedom to choose a structure that caters to your unique aesthetic and functional requirements.
In addition to being highly customizable, the retractable pool enclosures we install on Sunnyvale, CA, homes boast a number of other benefits, including:
Modern railing with a non-slip surface that you can safely walk on while under the enclosure
Protection against bugs, leaves, and other debris falling into your pool, which improves water quality and reduces the amount of chemicals required to treat your pool water
A solar effect that helps to keep your pool temperatures stable and reduce pool heating costs
A sophisticated locking system that protects your enclosure from weather-related damage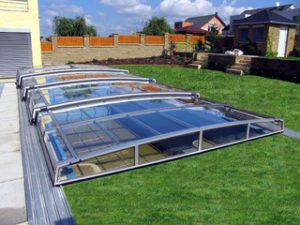 When you turn to Sunrooms N More for your new pool enclosure, you can trust that your home improvement project is in the most skilled and knowledgeable hands. Our team of factory-trained experts will install your new structure to ensure it is built with precision and care, and we will back your investment with one of the best warranties available for added peace of mind.
To learn more about the retractable pool enclosures we offer to homeowners in Sunnyvale, CA, and nearby cities, contact Sunrooms N More today.