Do It Yourself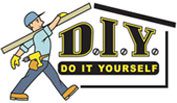 Sunroom Kits make adding affordable living space to your home easy. Ideal for experienced do-it-yourselfers, our kits allow you to bring the natural beauty of the outdoors inside. Extend the seasons, relax and enjoy the outdoors every day in the comfort of your home in a sunroom built by you.
Designed for easy installation, our Do-It-Yourself Sunroom Kits come with a step-by-step instruction manual and a full five (5) year warranty providing peace-of-mind protection for your investment.
Our sunroom kits offer options in room size, roof style, glass type and frame color to meet your budget and unique lifestyle needs. Please note that building codes vary by location. Please check with your state, city, municipality or county for permit requirements. Our sunroom kits offer the same legendary quality as our custom built and manufactured sunrooms so you can rest assured that you are getting a quality sunroom kit.
Fill out the form below to order our DIY Sunroom kit.