Restaurant Patio Enclosures for the Modern San Jose, CA, Business Available from Sunrooms N More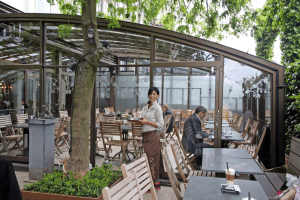 The restaurant patio enclosures installed by Sunrooms N More provide a perfect solution to extend the season of your San Jose, California, establishment. While sitting inside to eat is great when the weather is less than ideal, patrons will often migrate to restaurants that offer outdoor seating when the California sun is shining. If you don't currently have an outdoor space for customers to enjoy the comfortable climate, or your outdoor area is less than inviting due to insects or harsh sunlight, our patio enclosures are an all-in-one answer to your problems.
When you choose to have one of our restaurant patio enclosures installed on your San Jose, CA, establishment, the structure will offer a number of benefits that will have your customers thanking you. Some of these include:
A modern architectural appeal that will instantly make your restaurant more attractive to passersby
Vast glass panes that allow patrons to enjoy the view with no obstruction
Protection from the rain, cold, and other harsh weather conditions
The elimination of outside noise and allergens such as pollen
The minimization of heat loss within your enclosure, which will help keep the indoor climate comfortable
An easy slide system that allows for quick opening and closing of the enclosure in the event of bad weather
Another advantage of choosing the restaurant patio enclosures offered by Sunrooms N More for your venue is the fact that you can completely customize your enclosure to suit your business' unique environment. You can choose from an assortment of aluminum profile colors as well as decide whether you want standard glass or polycarbonate panes for your new outdoor addition. You can even have sun shade blinds installed for those areas on your patio that receive an excess amount of sunlight.
Plus, our state-of-the-art enclosures are an investment you can truly rely on. All of our products are backed by a leading 15-year warranty on the panels and a 10-year warranty on the profile color, so you can rest assured that your purchase is protected for years to come.
To learn more about the restaurant patio enclosures we can install for businesses in and around San Jose, CA, contact Sunrooms N More today.