The Premier Source for Accessory Dwelling Units in Fremont, CA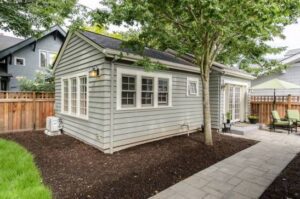 If you're considering having an accessory dwelling unit (ADU) built on your residential property in Fremont, California, Sunrooms N More is the only company you'll need to turn to. ADUs are essentially small homes and constructing them comes with all the challenges of constructing a full-scale building. With Sunrooms N More on your side, you'll be able to rest easy knowing your ADU is in the hands of trusted professionals who have extensive experience with custom construction and will complete your project correctly.
Flexible Solutions Tailored to Your Needs
When you partner with Sunrooms N More, your project will begin with a comprehensive design phase during which we'll come to understand exactly what you're hoping to achieve with your ADU. For example, are you looking to create a rental property that you can use to offset the high cost of living in Fremont? Would you like to turn your ADU into a luxurious in-law unit, cottage, or granny unit complete with accessibility features?
At Sunrooms N More, we offer custom ADUs—not prefabricated units like many other companies in the area. This provides our customers with the flexibility to create a secondary living space that is ideally suited to their needs and budget. What's more, our custom work is often more affordable than prefabricated ADUs. We can make the process simple by building an ADU from one of our ready-made floorplans, available in numerous styles, sizes, and configurations. Or, you can let your imagination run wild and create something uniquely your own.
As your ADU builder, Sunrooms N More's team of full-time experts will handle every aspect of your project. Indeed, we are truly a one-stop shop and will take on everything from creating architectural plans and securing permits to laying the foundation and completing all exterior and interior installations.
Contact Us
For more information about the accessory dwelling units we build for homeowners in Fremont, CA, contact Sunrooms N More today.