Sun Rooms Installed for Homeowners in San Francisco, San Mateo, Sunnyvale, San Jose, CA & Other Bay-Area Communities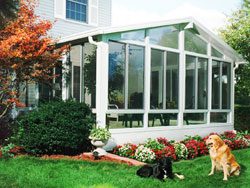 Sun rooms are ideal for homeowners in need of more comfortable space alternative to hard construction. At Sunrooms N More, we're proud to provide residents of Milpitas, Santa Clara, Cupertino, Saratoga, and other nearby communities in California with our sun rooms.
When you trust Sunrooms N More with your sun room installation, you will benefit from our long industry knowledge and a great customer satisfaction history. You will also have the peace of mind knowing that:
Professional expertise is always on site of every job we build.
We work a job from start to finish without other projects interfering
Our sun rooms come with the best warranties in the sunroom industry.
Sunrooms N More can meet both your aesthetic and budgetary needs for almost any home improvement project.
We have a number of styles and colors to choose from, so you'll be sure to find a sun room option that suits your taste. Sunrooms N More allows you to make use of your backyard space to enjoy for years to come.
For more information about the sun rooms we install in San Francisco, Fremont, Hayward, Walnut Creek, CA, and other communities in the area, please, contact Sunrooms N More today. In addition to installing sunrooms, there are many other services we provide homeowners looking to enhance their bathrooms, including roofing, room additions, kitchen remodeling and more.