Are Sunrooms Available in Different Styles? What Are the Best Options for Homeowners in Pacifica, Foster City, Burlingame, Redwood City, CA & Other Bay Area Communities?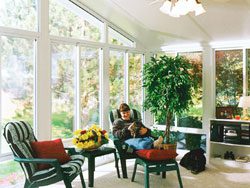 Sunrooms are a popular investment for homeowners in Pacifica, Foster City, Burlingame, Redwood City, and surrounding locations in California. They not only offer the functional benefits of additional space and beautiful open views of the outdoors, but they also provide lasting value by increasing the curb appeal and overall value of homes. And, as the demand for sunrooms increases, manufacturers continue to broaden their inventories with beautiful new styles and aesthetic options.
There are many different types of sunrooms available, so finding the right one really comes down to your style preferences and needs. Generally speaking, sunrooms are often categorized as all-season rooms, three-season rooms, or screen rooms. All-season rooms are meant to be enjoyed year-round; they are designed with energy efficiency in mind and their temperature can be controlled just like the rest of your home. Three-season rooms usually are built with single- or double-pane insulated glass, but they are not meant to be heated and cooled with the rest of the home. Therefore, these sunrooms are usually most comfortable from spring to fall. Screen rooms allow both the outside light and air into the room, as they are enclosed by screens rather than glass.
Once you decide which type of sunroom you're looking for, you'll also have a wide range of options when it comes to style. For example, solarium and conservatory sunrooms are all glass – both the walls and the roof. This allows for complete, open views of the outdoor surroundings and lets in the most natural light. There are a multitude of other aesthetic options to consider as well, including roof styles, color and wood grain options for the frames, decorative trim, roof ridging, and more.
If you're interested in learning more about the various sunrooms available for residents of Pacifica, Foster City, Burlingame, Redwood City, CA, and nearby locations, contact Sunrooms N More for a free, in-home consultation.