Choosing a Sunroom with Superior Energy Efficiency: How Low-E 3 Glass Benefits Homeowners in Half Moon Bay, Pacifica, Millbrae, Burlingame, CA & Other Communities Nearby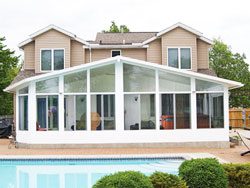 If you're going to have a sunroom added on to your home in Pacifica, Half Moon Bay, Millbrae, Burlingame, or other city nearby in California, it's vital to consider the level of energy efficiency the room is going to provide. Not only is your sunroom's thermal performance important for your monthly heating and cooling costs, but also for your daily comfort. Sunrooms oftentimes become the most used room in the house, so you'll want to ensure that yours maintains a consistent, comfortable temperature, regardless of the weather outside.
As a sunroom is mainly composed of glass, it's easy to guess that the glass that's used plays a critical role in its energy efficiency. In your research, you may or may not have encountered the term Low-E glass. Low-E stands for low emissivity, and emissivity refers to the amount of radiant heat a surface emits. When a sunroom has windows that are said to be Low-E, it means that the glass features a thin, specially-designed film coating that reflects the sun's radiant heat. Low-E 2 glass is manufactured with two applications of this metal film, and Low-E 3 glass incorporates three layers. More Low-E coatings simply allows for a greater reduction in heat transfer, so it's logical to assume that Low-E 3 glass is going to offer the best thermal performance for your new sunroom.
Sunrooms N More is local home improvement company serving homeowners throughout the San Francisco Bay area in California. The sunroom additions we install feature Low-E 3 glass, as well as other design elements that contribute to our sunrooms' overall energy efficiency, making them among the best in the area.
If you would like to receive a free sunroom estimate and demonstration of our Low-E 3 glass, please contact Sunrooms N More today. We proudly serve homeowners in Burlingame, Millbrae, Half Moon Bay, Pacifica, CA, and nearby communities.