The Benefits of a Sunroom Addition for Your Santa Clara, Daly City, or Mountain View, CA, Home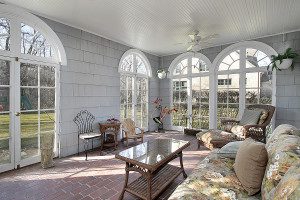 If you're looking to expand your Santa Clara, Daly City, or Mountain View, CA, home, a sunroom addition is a practical choice. Not only is it a cost-effective way to increase your home's square footage, but it's a unique way to set your home apart from others on the block. Whatever it is that you and your family love to do, a new sunroom will be the perfect place to do it.
Why choose a sunroom addition over another type of expansion project? Consider the following:
Sunrooms are more affordable than other home expansions. A designer sunroom from Sunrooms N More can cost nearly $10,000 less than a complete room addition.
Sunrooms are often installed in just a few days. For comparison, a new bedroom or den could take  a week or more to complete.
Sunrooms are unlike any other room in your house. The relaxing ambiance and appealing views will quickly make it a favorite destination for relaxing and entertaining.
When you choose Sunrooms N More for your sunroom addition, you can have your new outdoor living space tailored to your preferences. If you want an eco-friendly renovation, we can build your sunroom with recycled building materials. Perhaps you're looking for a space that'll stand up to the harsh sun in California cities such as Santa Clara, Daly City, and Mountain View. If that's the case, we can use aluminum frames that won't blister or peel. No matter what benefits you're looking to get from your new sunroom addition, we'll suggest the right renovation for you.
Ready to get started? Call us today. We'll help you make your vision a reality with our Santa Clara, Daly City, and Mountain View, CA, sunroom addition services.