The Benefits of Adding a Screened in Porch to Your Home in Fremont, Hayward, Walnut Creek, San Bruno, CA, or Nearby Community of the Bay Area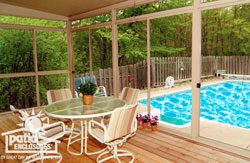 Having a screened in porch installed at your home in Hayward, San Bruno, Fremont, Walnut Creek, or nearby community in California will provide you and your family with a number of lasting benefits. First, a screen room provides your family a new room in the house – one that allows you to enjoy your home's beautiful outdoor surroundings without the nuisances of pesky insects or unexpected rain. It's no wonder why a screen room often becomes the new favorite gathering space in a home.
Second, a well-designed, durable home addition is sure to increase the overall value of a home. If you decide to sell your home in the future, you may see a nice return on your investment, thanks to the additional space and functional appeal that a screened in porch offers homeowners.
And, finally, patio enclosures are often customizable – both in terms of appearance and function. You'll be able to customize the appearance of your screen room with frame colors, door options, roof styles, and more. You'll even be able to choose from different types of enclosures. For example, there are screen enclosures with retractable walls for those days when you want to enjoy the open air, and there are also screen rooms that can be easily upgraded to sunrooms in the future, should you decide to do so.
If you're thinking about adding a screened in porch to your home in Hayward, San Bruno, Walnut Creek, Fremont, CA, or nearby area, contact your local experts at Sunrooms N More. We'll be happy to provide an in-home consultation and explain all the options available to you.