What Is a Retractable Screen Room & How Will it Benefit a Homeowner in Oakland, Concord, Pleasanton, Dublin, CA, or Nearby Community?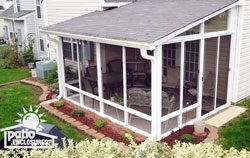 If you've been looking into screen room additions for your home in Concord, Dublin, Oakland, Pleasanton, or any other local California community, you may have come across some retractable options. Retractable screen rooms are a relatively recent trend that not all companies offer, but they provide a wealth of benefits for homeowners.
The walls of a retractable screen room are operated by a pull chain mechanism, which puts you in complete control. The exterior screen walls can be managed individually, allowing for one, two, or all three screens to be down at once for the desired level of ventilation. With the walls down, you and your guests can enjoy an outdoor meal while remaining protected from the nuisance of pesky insects. With the walls up, you can sit in the shade while enjoying the panoramic view and the open air.
Adding an innovative retractable screen room to your home not only provides functional, everyday benefits for you and your family, but also increases your home's curb appeal and overall value. Sunrooms N More is a local home improvement company in the Bay Area that proudly provides retractable screen rooms by TEMO, a manufacturer nationally recognized for its exceptional products. These screen rooms are made with extruded aluminum for outstanding durability. They won't rot or rust over time, and they're resistant to harsh weather and insect infestations. And, for additional peace of mind, our screen room installations are backed by a transferable lifetime warranty.
Contact Sunrooms N More today to learn more about the benefits of having a retractable screen room installed at your home. We're happy to serve homeowners in Oakland, Dublin, Pleasanton, Concord, CA, and other nearby communities.