Patio Cover Styles for Outdoor Living Additions in Antioch, Hayward, and Berkeley, CA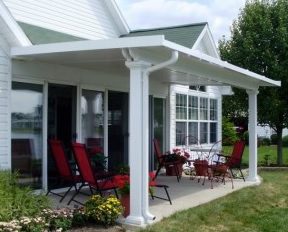 At Sunrooms N More, homeowners in Antioch, Hayward, or Berkeley, California, can choose from a wide number of patio cover styles. We know that every home has a unique aesthetic, and that every homeowner has their own idea of how they'd like to integrate their cover into their outdoor living space. That's why we offer a wide range of stylish patio covers, pergolas, and even carport/boat covers that can be installed in your back yard.
Some of our most popular patio cover options include:
Attached patio covers – These models are installed against the side of your home (or another sturdy structure), with two legs providing support on the other side. Many Antioch homeowners install them in front of a sliding glass door, so that they're able to step right out from their kitchen or living room into a relaxing deck or barbeque area.
Pergola patio covers – These patio covers are freestanding, and can be placed anywhere in the yard. Many Hayward homeowners install their pergola-style patio cover near a garden, koi pond, or other relaxing space that's a bit further away from the main walls of their home.
Carport patio covers – These heavy duty patio covers aren't used to add shade to a living space, but rather to protect your cars and/or boats from the sun and rain. Many Berkeley homeowners install these covers near a side entrance to their home, so that they are able to drive up in unpleasant weather and get inside without getting wet.
No matter which type of patio cover you have in mind, Sunrooms N More can make sure that you get the best products for your hard earned money. We proudly install patio covers from TEMO Sunrooms, one of the most respected manufacturers of outdoor living products.
To get a free quote from our Antioch, Hayward, and Berkeley, CA, patio cover installation team, contact us today.