For Comfortable Outdoor Living, Consider a Patio Cover for Your Pleasanton, Livermore, or Concord, CA, Home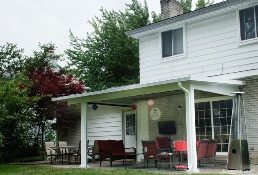 If you'd like an outdoor living space that's not completely enclosed, a patio cover may be the perfect option for your Pleasanton, Livermore, or Concord, CA, home. Patio covers are a simple – and affordable – alternative to a fully insulated sunroom; they can be assembled in just a few short days, and can bring much-needed shade to your backyard.
Many homeowners choose patio covers for their simple appearance and unique versatility. For instance, a patio cover can be used to create a covered barbeque deck, a partially covered pool lounge, or even a convenient carport. The solid roof deflects the sun's heat, allowing you (and your guests!) to relax in comfort.
Here at Sunrooms N More, we proudly install designer patio covers from TEMO Sunrooms. Every TEMO patio cover is built from strong, durable aluminum, and requires no annual maintenance. Best yet, the patio covers that we install throughout Pleasanton, Livermore, and Concord, CA, are:
Insect-resistant
Rot-resistant
Immune to weather damage
Backed by a lifetime transferrable warranty
Whether you'd like to make it more comfortable to dine outside, more enjoyable to host summer barbeques, or easier to get in and out of your car on a rainy afternoon, a patio cover from Sunrooms N More is a simple way to do so. Our experienced installation technicians can have your cover installed in just a few short days, and can customize the design to match the appearance of your home. We offer patio covers in two neutral colors and three beautiful styles. Custom sizes are even available upon request.
To learn more about a patio cover for your Pleasanton, Livermore, or Concord, CA, contact us today. We'll get you started with additional information and a free quote.