Finding the Right Contractor for a Home Addition in Walnut Creek, Hayward, Fremont, San Bruno, CA, or Nearby Bay Area Community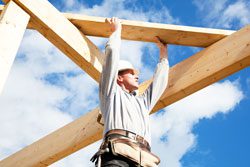 When you want to have a home addition built at your residence in Fremont, Hayward, San Bruno, Walnut Creek, or any other community nearby in California, it's crucial to find the right contractor to ensure it has the structural integrity and appearance you expect. But, with so many companies to choose from in the Bay Area, how can you be sure that you're making the right choice? As you research your options, there are several points you should consider to make certain you end up with a contractor you can trust to deliver the results you deserve for your home addition.
First, pay attention to the amount of experience the company has to offer. If a company has only been around for a few months or a year, it's possible that they may not be able to provide the same expertise as a more seasoned company. It's ideal to find a company that has a decade or more of industry experience. That way, they can show you examples of home addition jobs they have completed, or even show you testimonials from previous clients. Experienced companies will have a good understanding of your needs and will have knowledge of all sorts of home addition projects, such as building second floor rooms, designing sunroom additions, and more.
You'll also want to make sure you choose a full-service company – one that can handle every aspect of your home addition, from the initial design to the final day of construction. All too often, contractors will leave the burden of some parts of your project to fall on your shoulders, and there's no reason you should face this unnecessary stress.
Finally, a home addition contractor should be willing to meet your needs. For example, if you want to "go green" with energy-efficient and eco-friendly options, be sure to indicate that and ask how they can help. Your contractor should also be willing to work around your schedule and your budget needs, providing the best possible prices and financing options.
Contact Sunrooms N More today if you're planning a home addition in Hayward, San Bruno, Walnut Creek, Fremont, CA, or another community nearby. We have more than 10 years of industry experience and will be happy to schedule a free, in-home consultation to explain our services in detail.