Popular Home Additions & the Benefits They Provide Homeowners in Fremont, Union City, Newark, Hayward, CA & Surrounding Communities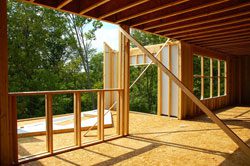 Home additions are great investments for homeowners in Fremont, Union City, Newark, Hayward, and nearby California locations. The most apparent benefit of house additions is the increased square footage, which gives homeowners more living space as well as extra room for storage. In addition to the obvious functional benefits this offers the homeowner, increasing the size of a residence can also have a great affect on its overall value. When it comes time to sell the house, homeowners who have built an addition will likely receive a hefty return on their investment.
What makes home additions so exciting is that the possibilities are virtually endless. Homeowners can create an office, guest bedroom, mud room, library, playroom, or anything else that might suit their needs. One type of addition that is becoming increasingly popular for California homeowners is the sunroom. Sunrooms allow homeowners to enjoy the natural light and beautiful surroundings of the outdoors without leaving the temperature-controlled comfort of their homes. Plus, sunrooms increase a home's curb appeal because they look stunning from outside, which means they can enhance a home's value even more than typical home additions.
Sunrooms N More is a local home improvement company that offers all types of home additions, including a wide variety of sunroom options. We're a full-service company, meaning that we can handle every step of the project, from the initial design to the last day of construction. And, we complete every project while upholding the highest standards for customer service.
If you're interested in having additions built onto your home in Fremont, Union City, Newark, Hayward, CA, or any other community nearby, please contact Sunrooms N More today.